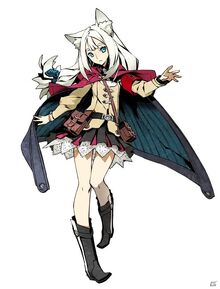 "That was one odd motherfluffer." ~Nagamimi
Code: Lucier! is a DLC quest that gives you the Female Lucier from 2020-II as a playable character.
The quest is submitted by Hiro. He is located in 7th Encount, requesting Unit 13 to find a cat girl that he wants to "fluff". Unit 13 then logs into 7th Encount and finds the Lucier girl. The Lucier runs away from them and is later found getting attacked by a dragon. Unit 13 saves her then takes her back to Hiro. Hiro then runs up to her and starts petting her hair and cat ears. He then leaves after a moment of fluffing a cat girl in front of Unit 13 and Nagamimi. After he leaves, Nagamimi wonders what was wrong with him and even calls him a "motherfluffer". Ally walks up to them and asks if this is the Lucier from the quest. Nagamimi says it is, but the girl has amnesia. Ally suggests that the Lucier joins Unit 13, which she agrees to. Her player model is then unlocked and the quest ends.
"That was one odd motherfluffer." -Nagamimi
"Fluff fluff fluffy fluff fluff." -Hiro
Characters Featured In Quest
Edit
- Female Lucier from 2020-II
- Unit 13
- Hiro
- Ally
- Nagamimi